Last Updated on April 27, 2023 by Renee'
What to do with all that Summer Squash? Well, you can freeze it or you can Pressure Can it. I have done both, but what I have found is that I never have enough freezer space not to mention "freezer burn", plus it keeps much longer by canning it. I'm still eating squash I canned 2 years ago.
One of my favorite recipes is my Paleo Squash Casserole. Just like my grandmother used to make but healthier. My daughter's favorite is to put it in my Breakfast Sausage Hash.
My mother gave me her canner that is almost as old as I am. I can't believe it but it still works! I started canning a few years ago because I hated to see all those veggies go to waste that my dear sweet Dad was growing in his beautiful gardens. Yes, he has three! All organic too! I am very blessed to be a recipient of all this greatness!
My dad is 84 years young & still going strong! I don't know many young people that could keep up with him! I know I can't!
UPDATE:
How to Can Squash
Ingredients:
Tools Needed
Directions: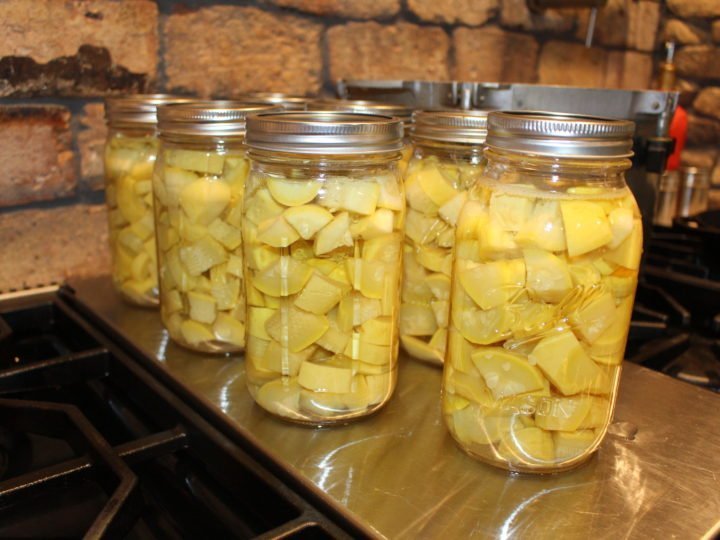 Recipes for Canned Squash:
Also great in soups.
More Canning & Freezing Recipes:
*Scroll down for the printable recipe.
Disclaimer:
More info on canning & preserving here & get your free guide to canning here.
Yield: 7 qts
How to Can Squash
Ingredients
Yellow Squash (enough for 7 quarts)
Sea Salt (optional) 1 tsp. per quart
Filtered Water (I use a Berkey filter system)
Instructions
Sterilize Jars. My dishwasher has a sterile cycle, so I just make sure to run them on the sterile cycle ahead of time.
Wash Squash & cut off ends.
Cut Squash into cubes or you can slice if preferred. I like to cut in thick slices then quarter them. They fit better in the jars.
Put the squash in stainless steel bowl until ready to put in jars.
Add filtered water to large pot & bring to a boil.
Fill the canner about 1/4 - 1/3 way full with hot water (it will rise when you add the jars of squash) & turn on low to med. heat.
Put the lids with bands into a pan of boiling water.
While filtered water is heating, Pack jars with squash.
Add 1 tsp of sea salt to each quart (optional)
Pour boiling filtered water into jars of squash. Leave 1" of headspace.
Remove air bubbles with the handle of the wooden spoon by sliding it down the side of jar.
Wipe jar rim with a clean cloth
Use tongs to put the lids on the jars. They will be very hot. Tighten.
Put jars of squash into canner using a jar lifter
Put the pressure canner's lid on & tighten according to canner's instructions.
With my pressure canner, I turn the heat up to med-high until steam starts coming out the vent then I close the vent & let it start building pressure. Make sure to follow your canner's instruction manual.
Bring pressure up to 10 lbs. Cook 25 min for pints or 30 min for quarts. Make sure to check your canners manual to adjust for your altitude.
Once it is done, turn off the heat & let the pressure come completely down to zero. This is very important. Do not attempt to relieve pressure manually. Once the pressure has completely come down, open vent & lid.
Remove jars & allow to cool for 12-24 hours before moving.
(Visited 268,173 times, 1 visits today)