Last Updated on December 22, 2020 by Renee'
Oh My Gosh, how I miss Southern fried okra. As you all know my dad's garden has been coming in and he has a ton of okra!
I have fermented okra, frozen okra, canned okra… Somehow saying that makes me think of the movie Forrest Gump! LOL
My daughter loves okra too (maybe more than me). She was so inspired that she wanted to make Okra like her Grandmother makes, but healthier so she actually made Paleo Fried Okra after I had made this Pan-Fried Okra with Bacon. OMG, it was so Yummy! (Post to come soon)
There are so many health benefits of okra that we all need to include it regularly to our diets. It helps to control blood sugar, cholesterol, blood pressure, prevents cancer, treats acne, depression, helps with weight loss, improves digestive health & much much more.
So I saw a post recently on Facebook for pan-fried okra without flour. Really? How can that be? I figured it would be slimy. But I decided to make it anyway. It had bacon and onions. Yes, you heard me right. Bacon! Well, I was sold immediately & it was so easy & Oh So Delicious! Here is my version of it! It had more ingredients & as always I like to keep it simple!
Ingredients:
1-quart of cut Okra (bite-size pieces)

4 -6 slices of Bacon cut into 1 in. pieces
1/2 c. Chopped Onion
Sea Salt (to taste)
Tools:
Directions:
Heat Black Iron Skillet on Med-High heat.

Add bacon & onions & fry, stirring until crispy & onions are browning.

Remove bacon & onions with a slotted spoon from pan reserving the bacon grease in the pan.
Add okra to the same pan with bacon grease (may need to add more oil such as avocado oil if necessary) & fry, stirring occasionally until brown.

Remove from heat.

Add back bacon & onions & stir.

Serve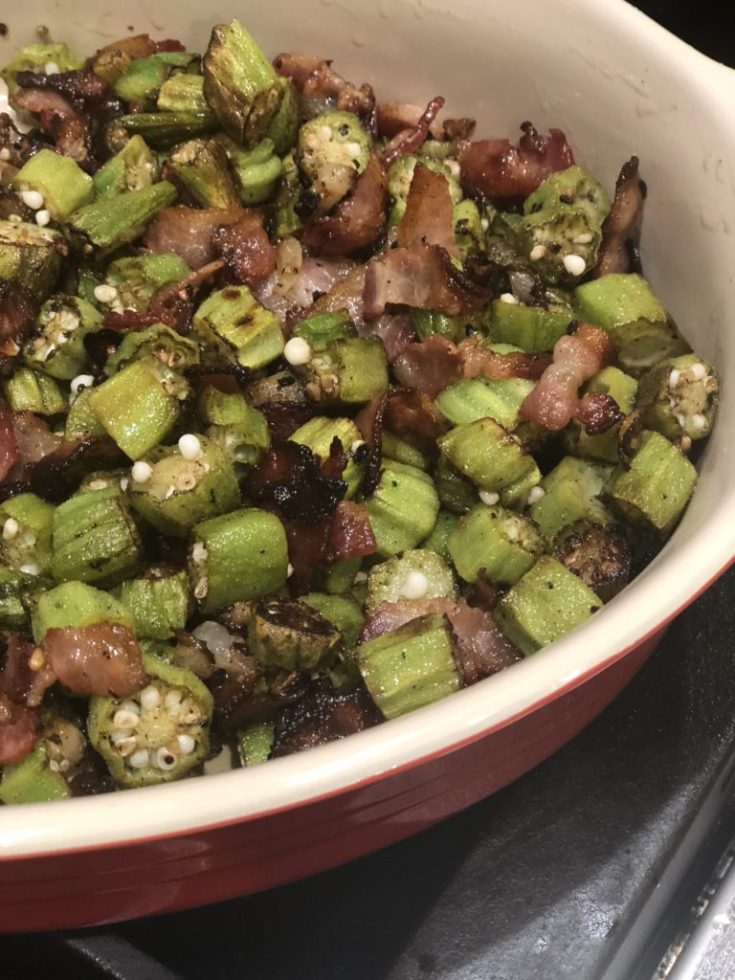 Doesn't that look yummy! Scroll down for the Printable Recipe Card!
Tips:
More Okra Recipes:
Yield: 4
Pan Fried Okra with Bacon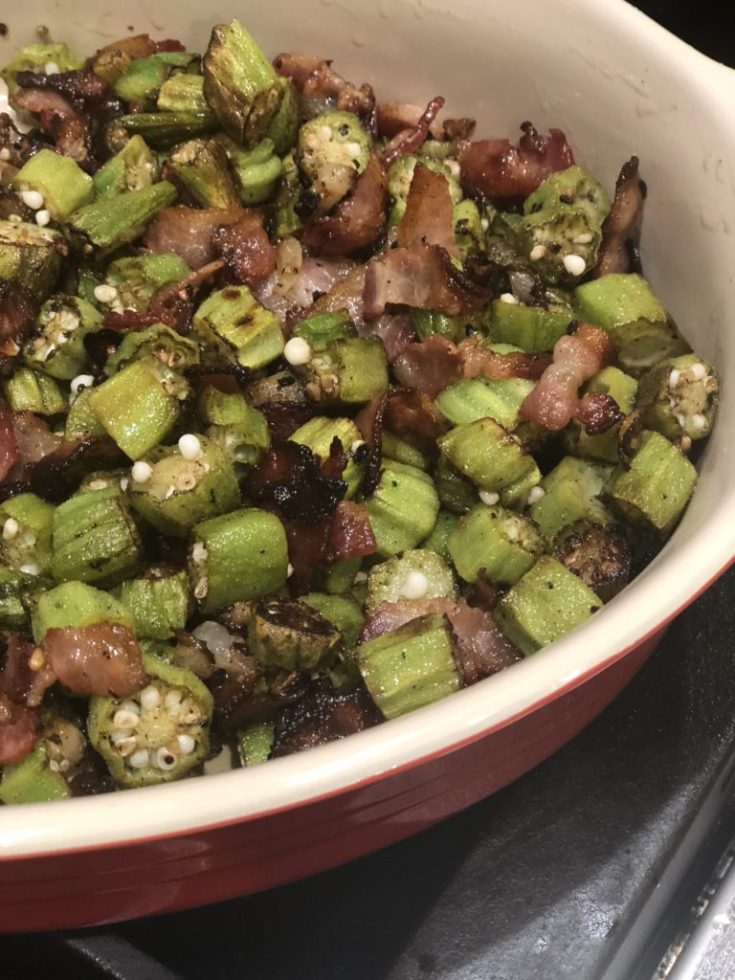 Ingredients
1-quart of cut Okra (cut into bite size pieces)
4 -6 slices of Bacon cut into 1 in. pieces
1/2 c. Chopped Onion
Instructions
Heat Black Iron Skillet on Med-High heat.
Add bacon & onions & fry, stirring until crispy & onions are browning.
Remove bacon & onions from pan reserving bacon grease in the pan.
Add okra to the same pan with bacon grease (may need to add more oil such as avocado oil if necessary) & fry, stirring occasionally until brown.
Remove from heat.
Add back bacon & onions & stir.
Serve
(Visited 4,885 times, 1 visits today)